VESSELS ARE THE LIFELINES OF THE BRAIN
Cerebrovascular diseases, also called neurovascular diseases, can manifest as insufficient blood flow or bleeding, i.e. an uncontrolled escape of blood from a cerebral vessel. More than 80% of all neurovascular diseases are circulatory disorders, which are also known by the terms cerebrovascular accident, ischemia or stroke. Only about 15% of cerebrovascular diseases are haemorrhages. When the bleeds come from arteries, they pose an acute threat to life; bleeding from veins usually manifests itself less dramatically in clinical terms. All neurovascular diseases are absolute emergencies and must always be treated in specialised centres. Klinik Hirslanden has a certified stroke centre, and is also licensed to provide the full range of this type of treatment, which is defined as highly specialised medicine.
At our centre, we treat all kinds of neurovascular diseases. Through our close interdisciplinary cooperation with neuroradiologists, oncologists and radiologists in the ENDOMIN NETWORK, we can provide treatment based on the latest medical findings using all available methods.
In the following sections, you will find information about the most common types of cerebrovascular diseases, their symptoms, diagnostics and treatment options, as well as explanations about the special techniques and treatment strategies used at our centre.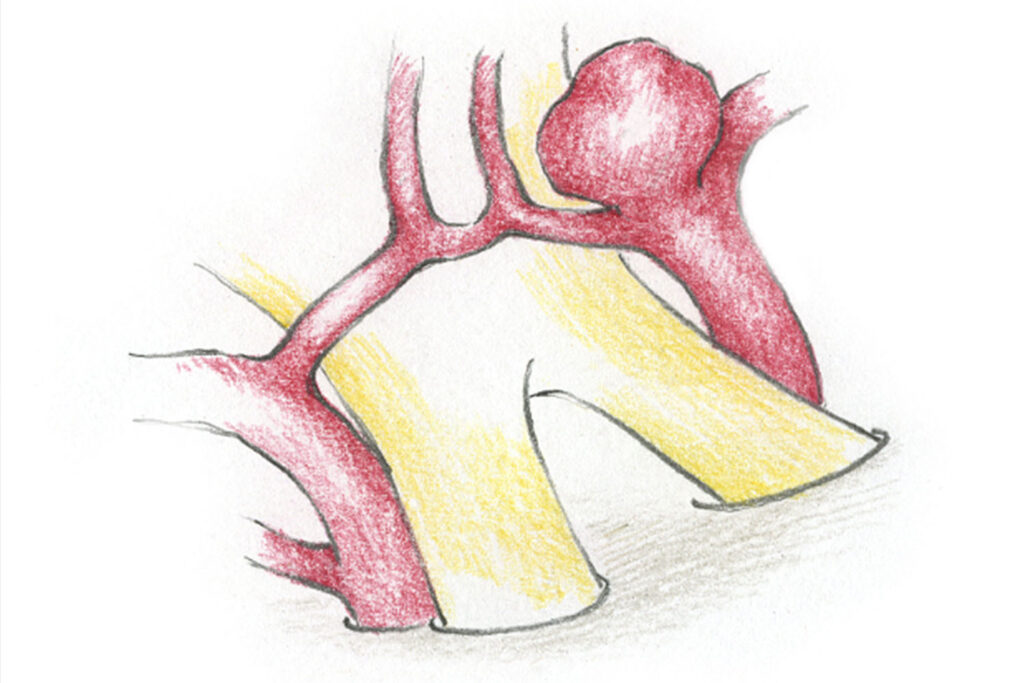 Brain aneurysms are bulges in the cerebral blood vessels, which develop at the sites of vessel division. Aneurysms are common: about five percent of people have an aneurysm in the cranial cavity. Aneurysms "don't hurt" and rarely grow to a size that causes symptoms related to space occupying. This means that in many cases an aneurysm is only diagnosed when it bursts and causes life-threatening bleeding. If a subarachnoid haemorrhage is suspected, an immediate visit to our stroke unit is necessary to avoid fatal consequences.
ARTERIOVENOUS MALFORMATIONS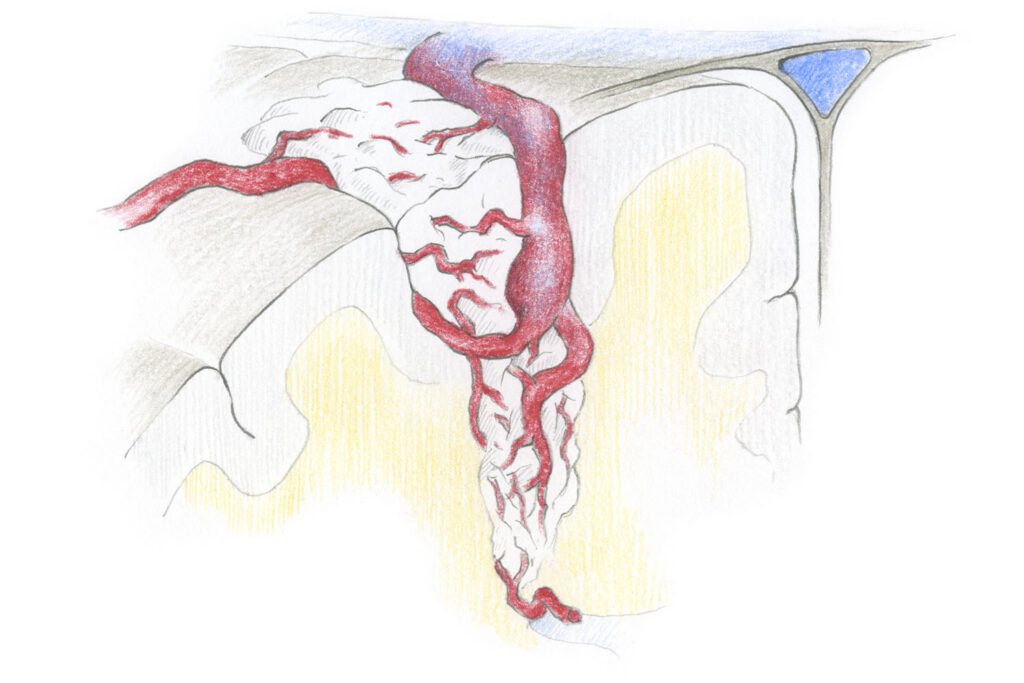 Arteriovenous malformations (AVMs) are vascular malformations, consisting of a bundle of arteries and veins connected to one another via short-circuit connections. Due to the lack of a capillary bed, the arterial pressure is transferred unchecked into the veins, which are thin-walled and therefore become widened, and at risk of rupture.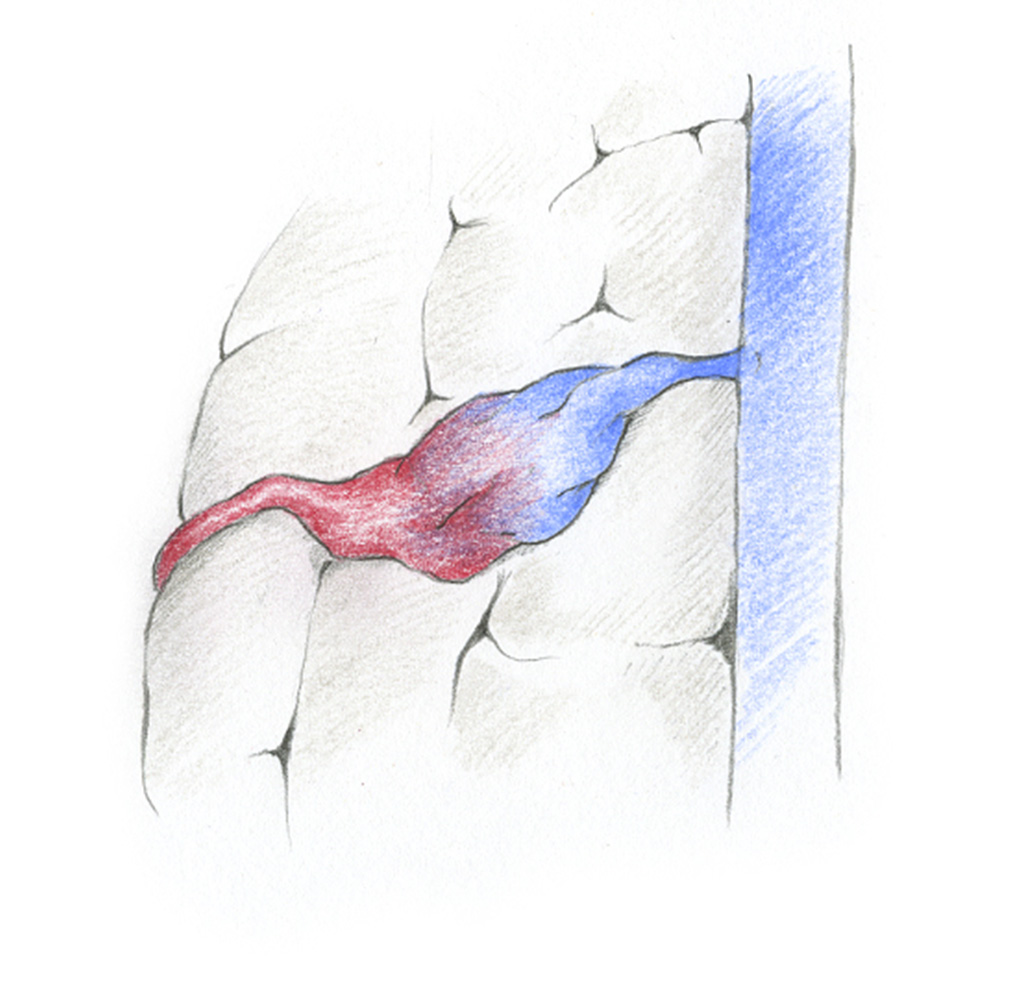 Arteriovenous fistulas (AV fistulas) are rare vascular malformations that consist of short circuits between arteries and normal veins of the brain or spinal cord on the meninges. Medical literature distinguishes between different forms of fistula formation, but typically there is only one fistula point between the arterial and the venous vascular system. 
CAVERNOUS MALFORMATIONS / CAVERNOMAS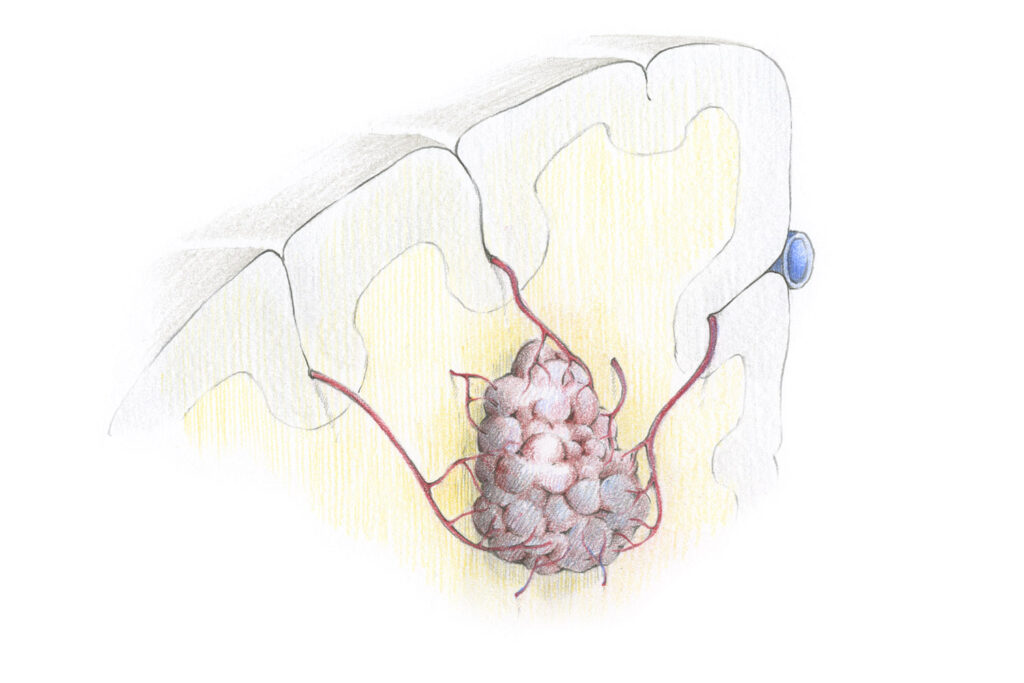 A cavernoma is a vascular malformation consisting of pathologically thin-walled and fibrosed blood capillaries. In contrast to AV malformations, neither arterial nor venous differentiation is detectable in a "sponge-like" cavernoma. However, there are often localised deposits of degraded blood products: this hemosiderin staining is interpreted as an indication of older microbleeding and wider space-occupying bleeding occurs only rarely.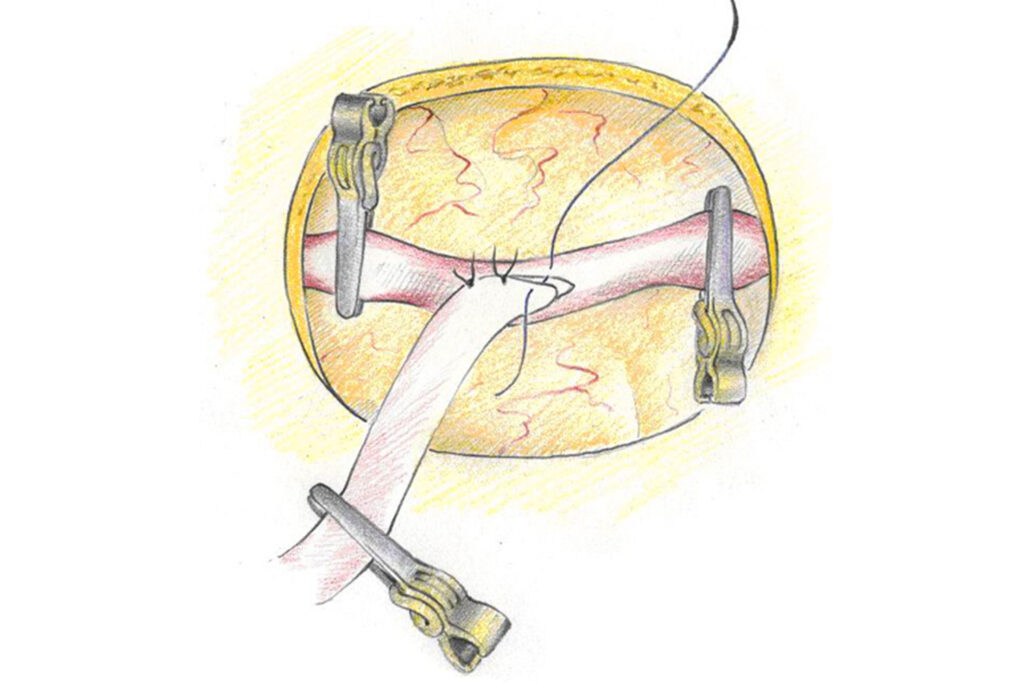 In 84% of cases, a stroke is the result of a circulatory disorder in the brain, while in 16% cases it comes from a bleed inside the skull. 
A circulatory disorder in part of the brain is caused by a blood clot which blocks one or more cerebral blood vessels. The part of the brain that is no longer supplied with blood is damaged as a result. 
Bleeding into the brain or into the cerebral cavities is the result of a ruptured blood vessel. The escaping blood destroys and compresses a part of the brain, as the skull prevents it from being released. The compressed areas of the brain no longer function and often suffer severe damage. 
The Hirslanden Clinic has a modern stroke unit. Patients are admitted here after any kind of neurovascular emergency, so that the situation can be clarified and treatment can be provided immediately. Immediate care plays a central role in stroke therapy, since the affected brain centres must be "rescued" as soon as possible! If quick action is taken, in the case of a circulatory disorder, the blood clot can be dissolved with medication or removed through the vessels using a microcatheter. If the brain bleed is large and is compressing the healthy brain, it can be cleared by surgery. 
The neurovascular focus of our centre offers a comprehensive spectrum of state-of-the-art diagnostics and therapy, using minimally invasive techniques at the highest level. Our focus is on interdisciplinary cooperation between neurologists, neuroradiologists and neurosurgeons.